Using Artificial Intelligence (AI ChatBots) in Genealogy Research
This is going to be brief, because I'm just taking a quick break from some hot-on-the-trail research. Having hit so many dead-ends I decided to give AI (Artificial Intelligence) a whirl.
Artificial Intelligence is becoming more and more prevalent in our world, and I haven't completely accepted or resigned myself to it yet. I'm not comfortable with AI artwork replacing creativity, but thus far I'm accepting that it may be able to provide research assistance, or "another set of eyes" so to speak.
What are AI Chat Bots?
According to Business Insider, "Chat bots like GPT are powered by large amounts of data and computing techniques to make predictions to string words together in a meaningful way. They not only tap into a vast amount of vocabulary and information, but also understand words in context. This helps them mimic speech patterns while dispatching an encyclopedic knowledge."(1)
How can I use this technology in my genealogy research?
Sometimes we get so invested in the minutiae of our research that we might not see the bigger picture. Sometimes we're frustrated in our research and need to bounce ideas off of someone (but nobody in the house is interested). These are great times to type a simple or complex question into a Chat Bot to see what their "take" on your research dilemma is.
Which ChatBot?
The most talked about currently is Chat GPT, although it isn't free and requires an account to try it out. An alternative that I've been using is Perplexity.ai
Perplexity.AI
It's free
No account needed
It lists the sources for the information it provides (And we're all about sources, right?)
It offers suggestions for "Related" questions you might consider (and also provides answers).
Example
Here's an example comparing a basic search question in both ChatGPT and Perplexity.ai: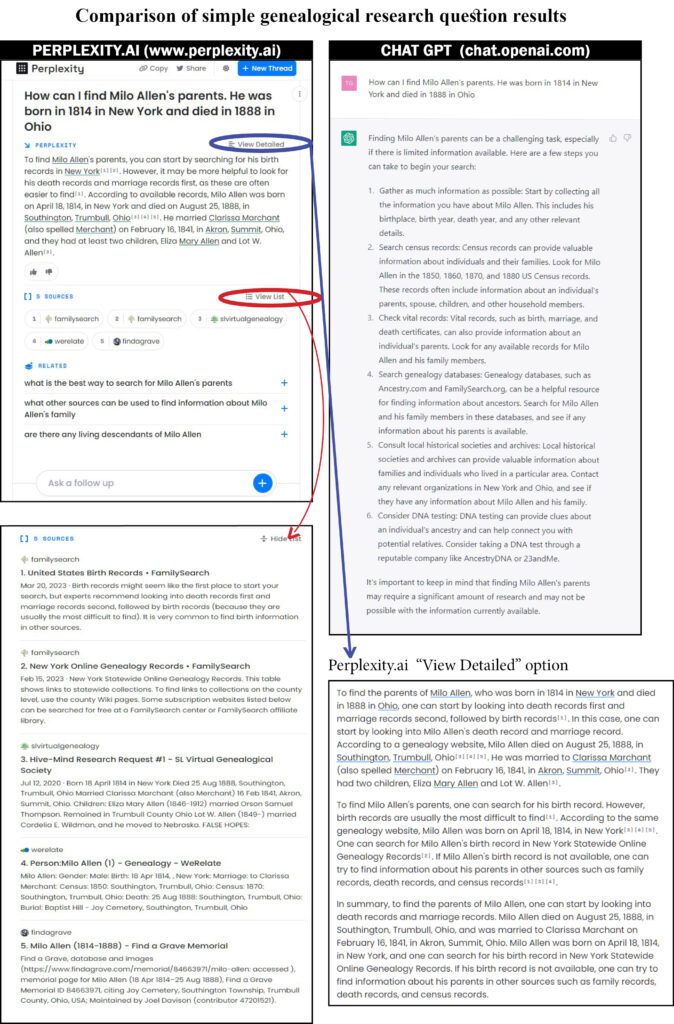 Give it a try – It isn't going to do your research for you, but between the suggestions and the sources, you just might get a clue that leads to success.
(1) https://www.businessinsider.com/everything-you-need-to-know-about-chat-gpt-2023-1